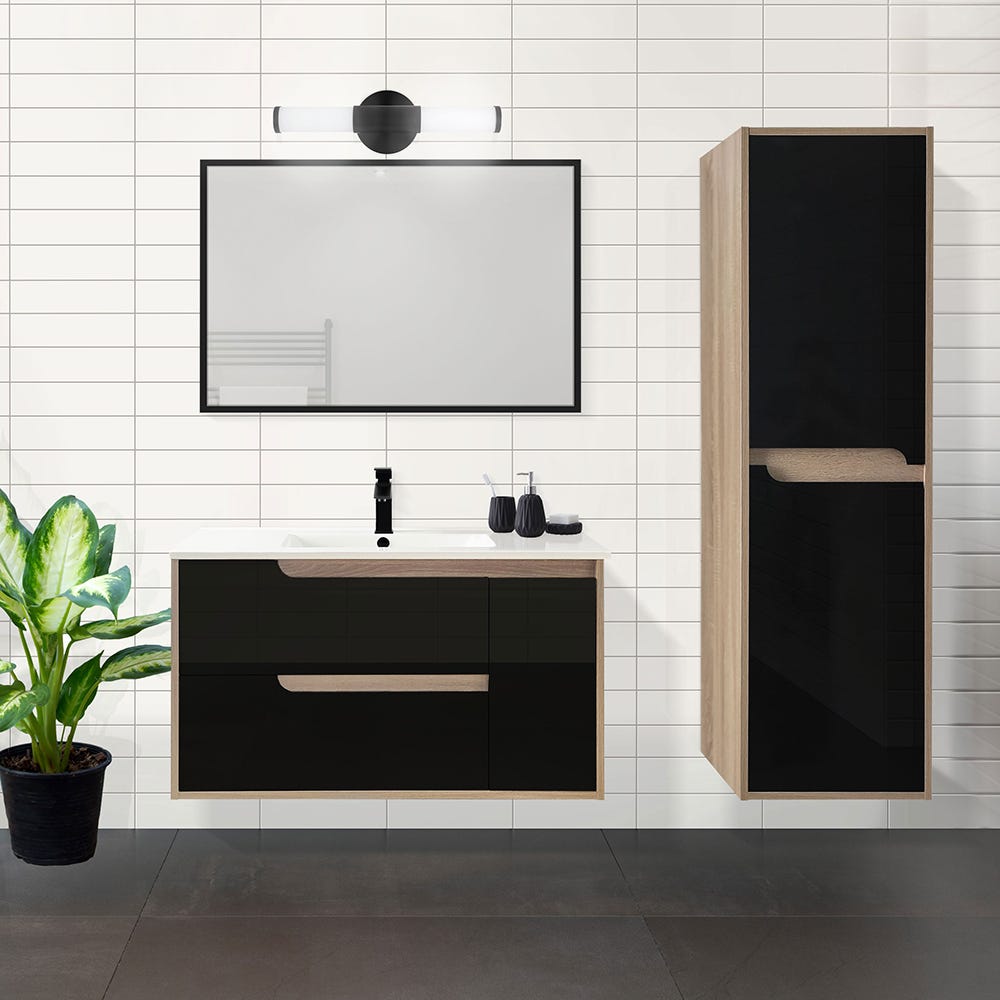 Cutting-edge design and a duo of finishes meet to create a look that is entirely unique. The pieces in this collection bring character and elegance to your bathroom decor with their glossy black and white oak finishes.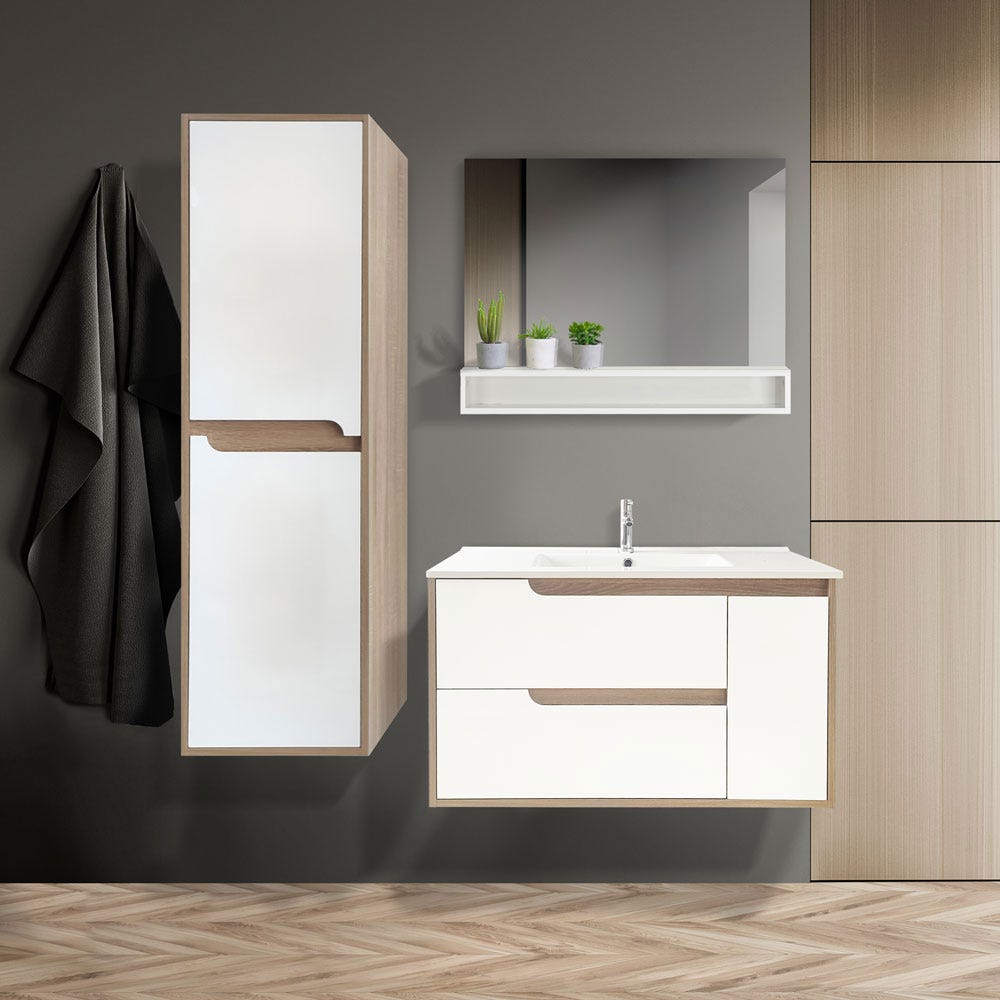 The pieces from this collection put forth an avant-garde design and a duo of light colours for a unique look. Featuring stylish cut-out handles and crisp lines, ELOISE is the perfect choice for your modern bathroom!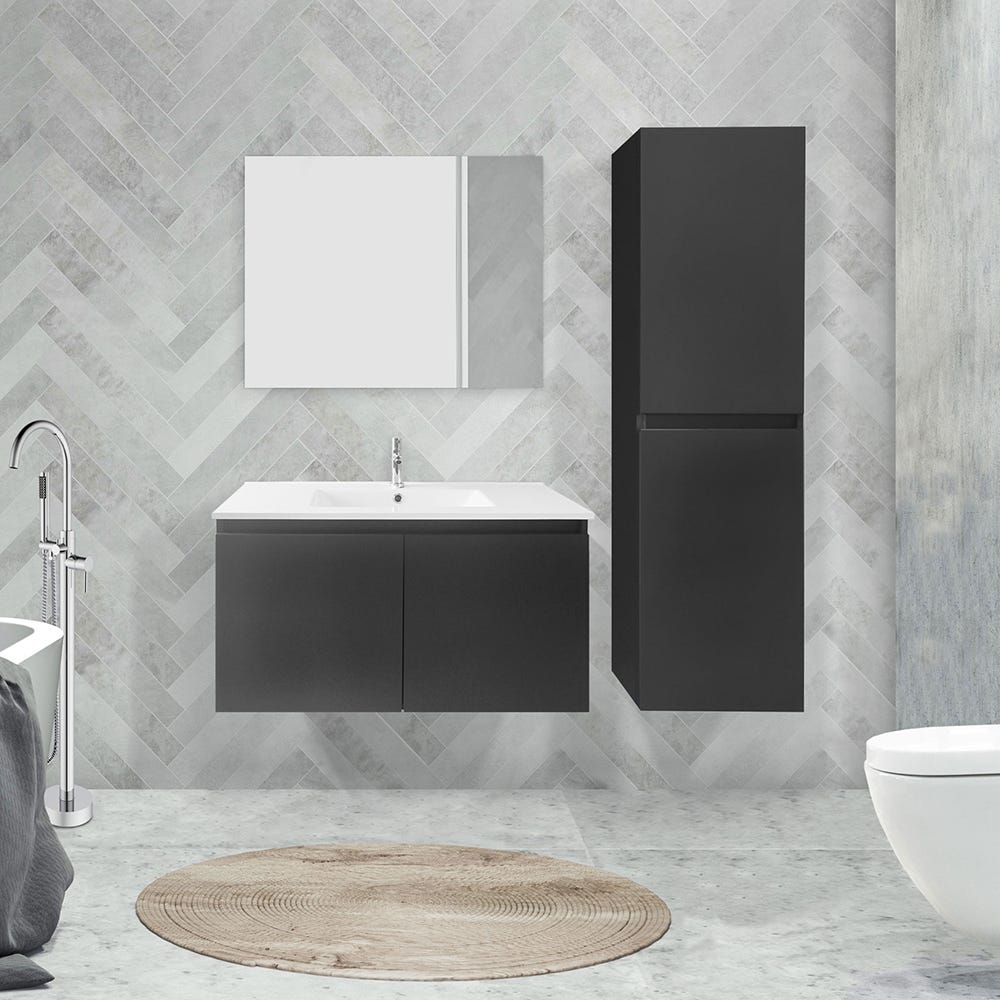 Showcasing a versatile and simple design, the pieces in this collection are set apart by their glossy dark grey finish. This collection is made up of straight lines and will easily adapt to many decors.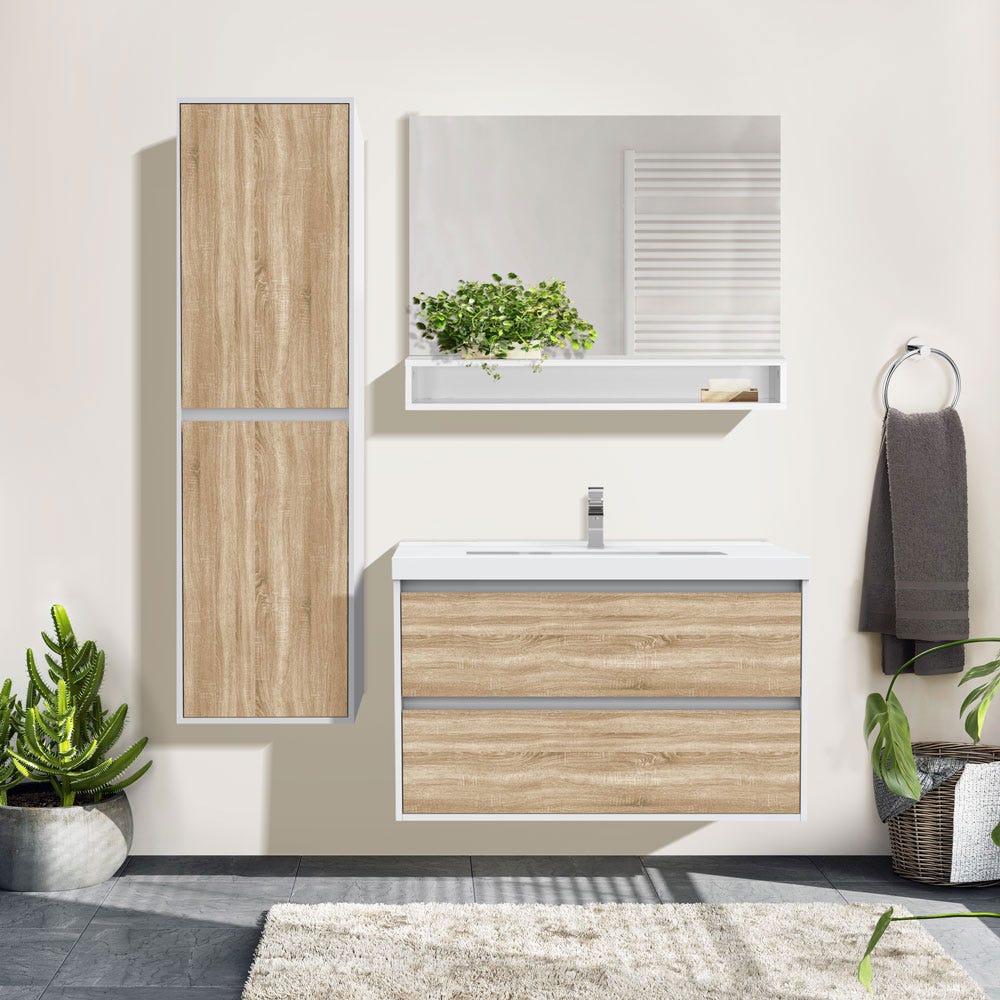 Mixing organic touches with modern style, this collection features a glossy white structure with light oak effect facade for a look that is both streamlined and soothing. It's all you need to create the relaxing atmosphere you're looking for!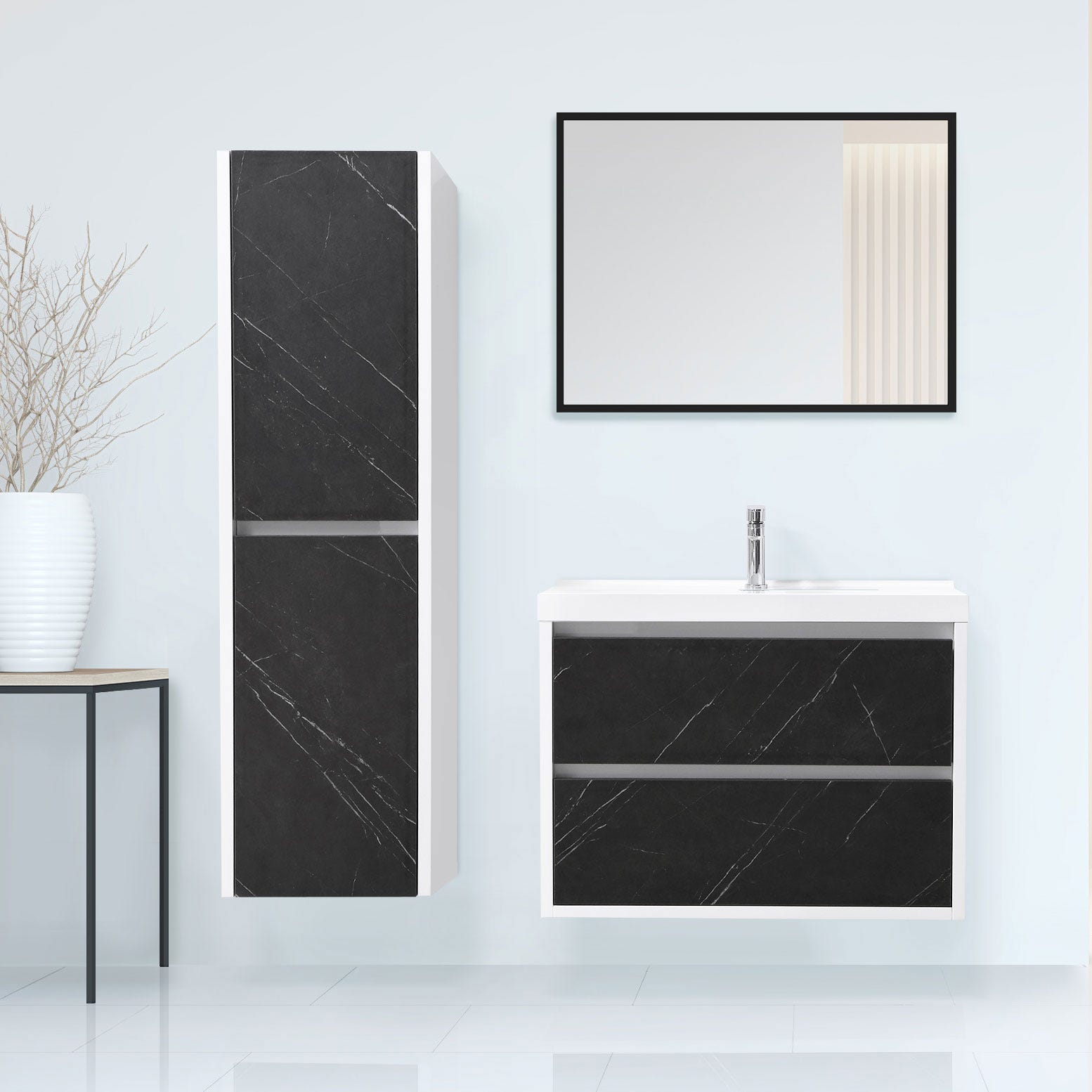 Showcasing a modern mix of materials, this collection combines a dark gray marble effect with a glossy white finish. With the linear design of the wall units, you will get a look that is both refined and avant-garde for your contemporary bathroom!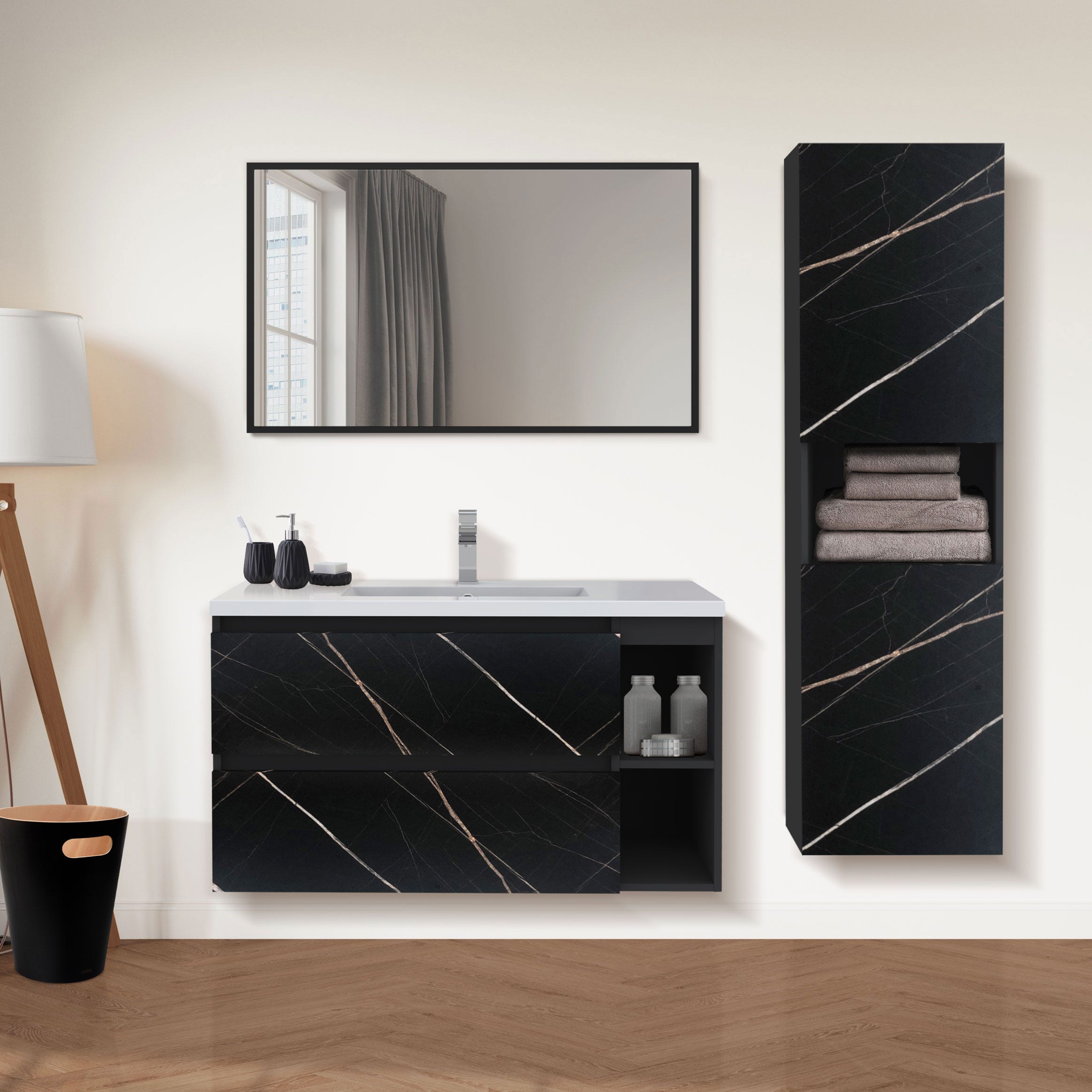 Get an old-world look mixed in with modern design thanks to the DIMARCO collection. The black marble finish highly contrasts with the white veining, giving a certain edge to the entire collection, while the flat linear design and open cubbies give off a contemporary vibe..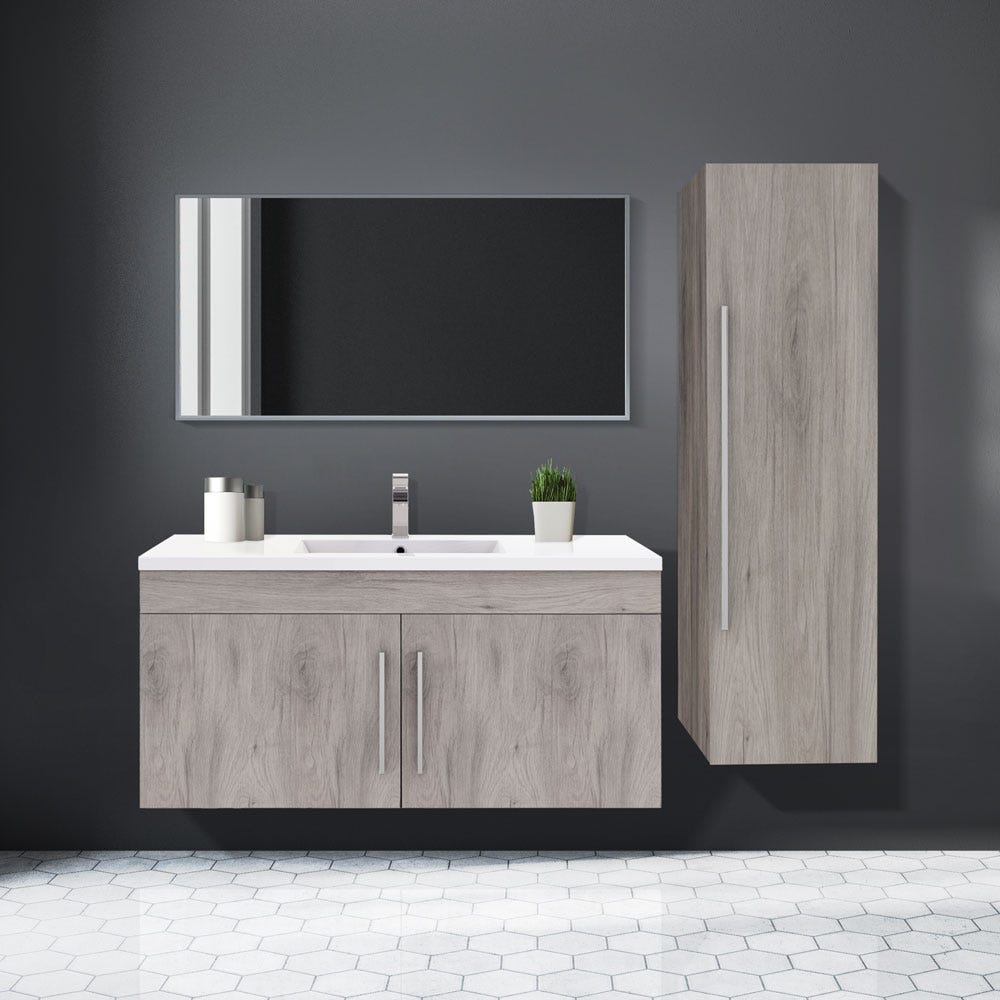 Offering an undeniably rustic look for your bathroom, the WYATT collection fuses countryside charm and contemporary designs. The light grey oak finish gives off that popular barn wood appearance and its linear design with the aluminum handles give it a minimalistic and modern look that can blend with many decors.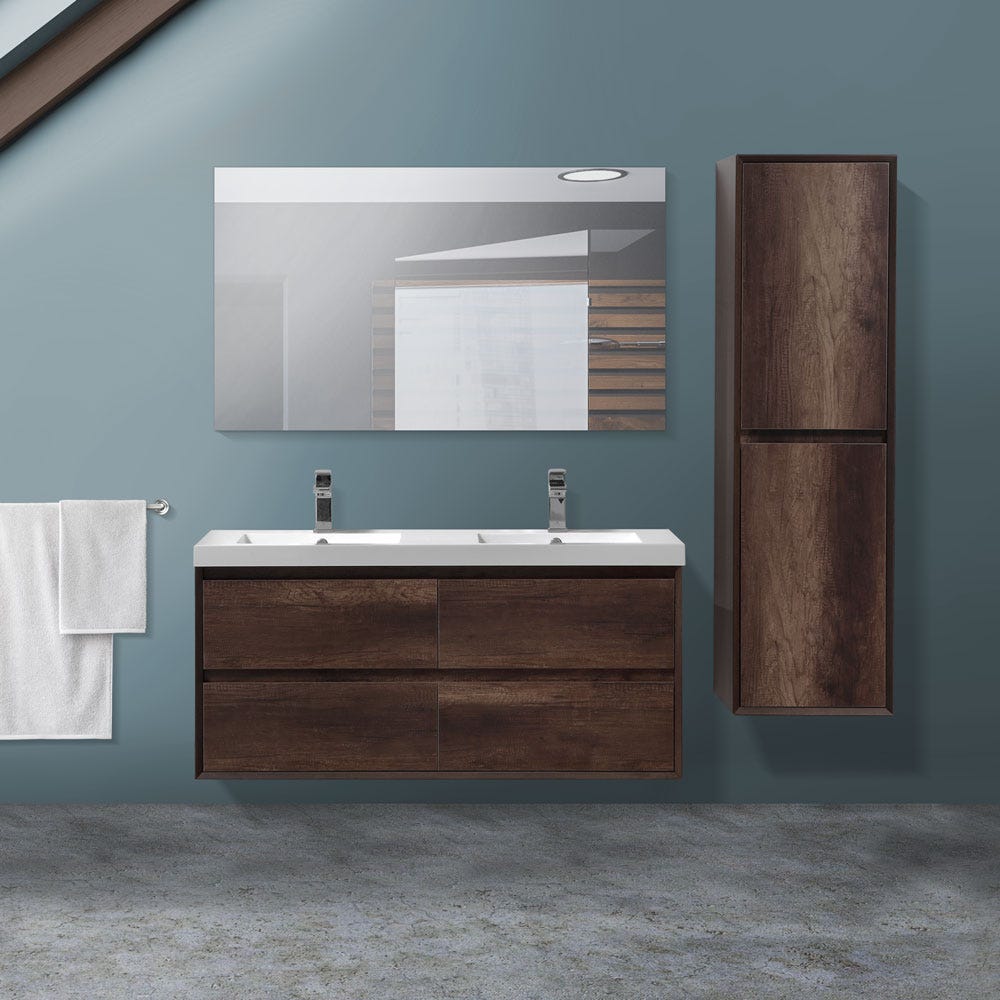 Bring organic and warm tones to the bathroom with this collection's natural-looking cedar wood finish. Combined with a simple and minimalist design, you will get a contemporary decor that inspires tranquillity every day.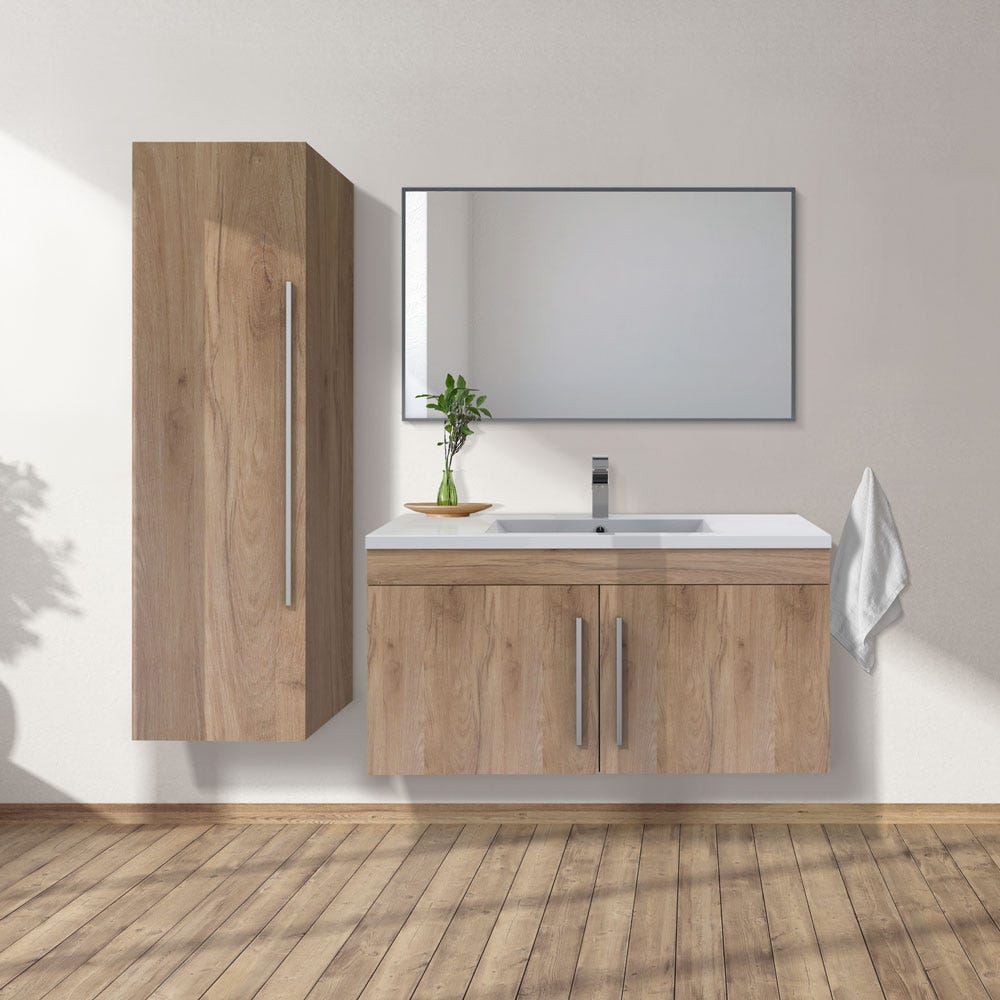 Tap into your organic side with this light brown oak finish furniture collection. Featuring modern pieces with simple lines and aluminum handles, the HADLEE collection can easily add authentic personality to any decor, from rustic to industrial.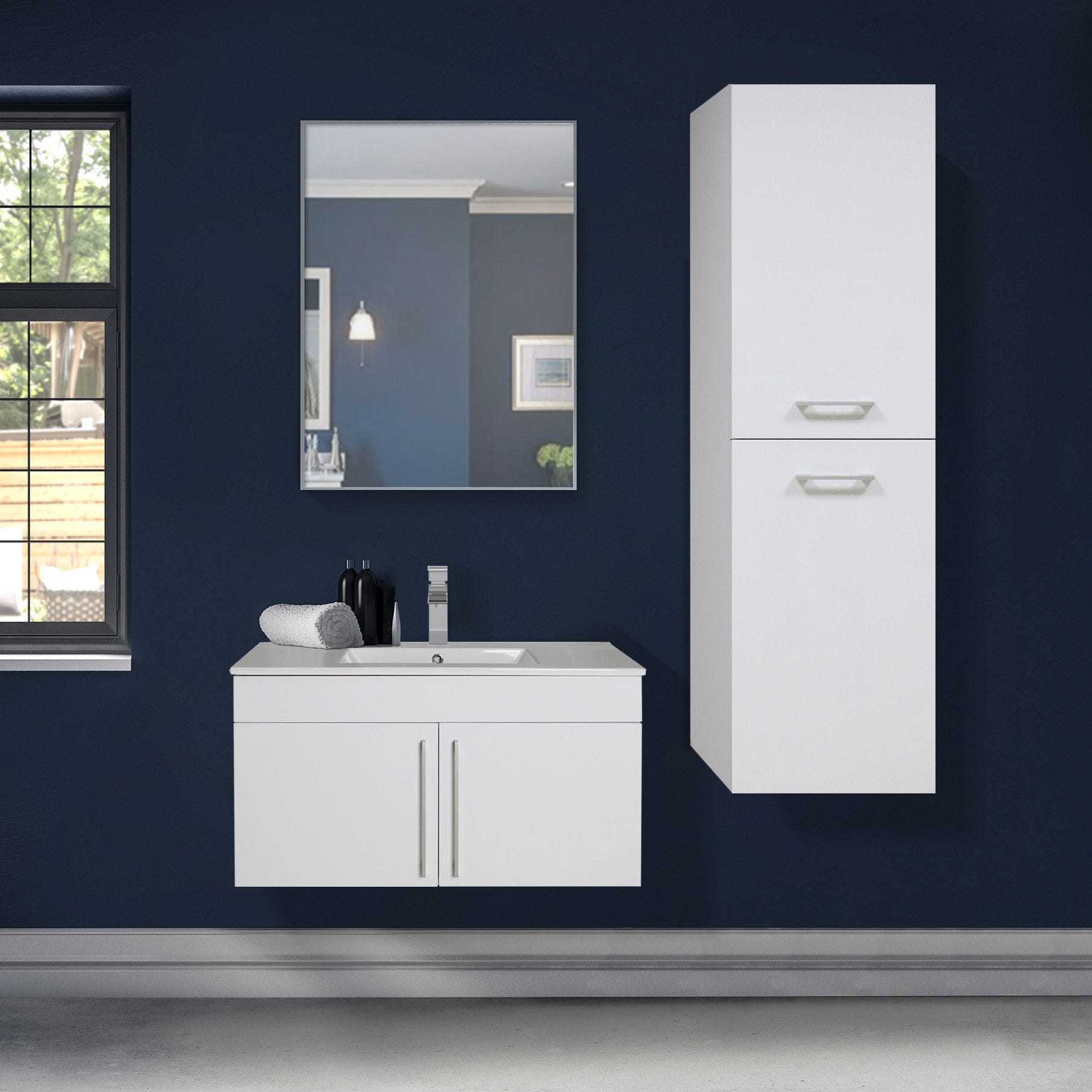 The CLAIRE collection offers versatile pieces to help create the modern decor of your dreams with its aluminum handles and glossy white finish that will instantly brighten your bathroom.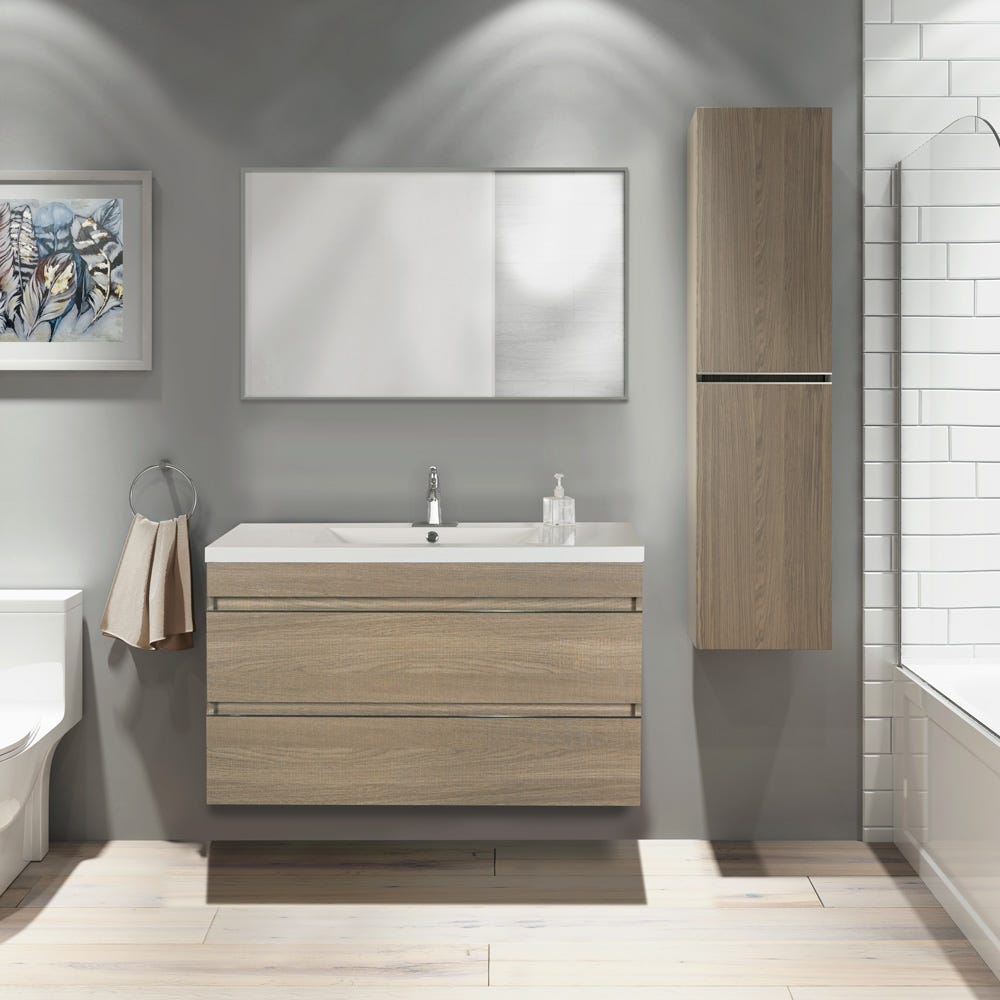 The TULIA collection means refined and trendy. Combining minimalist lines and chrome accents, it will complete all decors.
Choose a modern and clean design with the SNOWDON collection's floor vanities. Characterized by a glossy white finish and aluminum handles, these vanities bring just enough storage space to your small bathroom.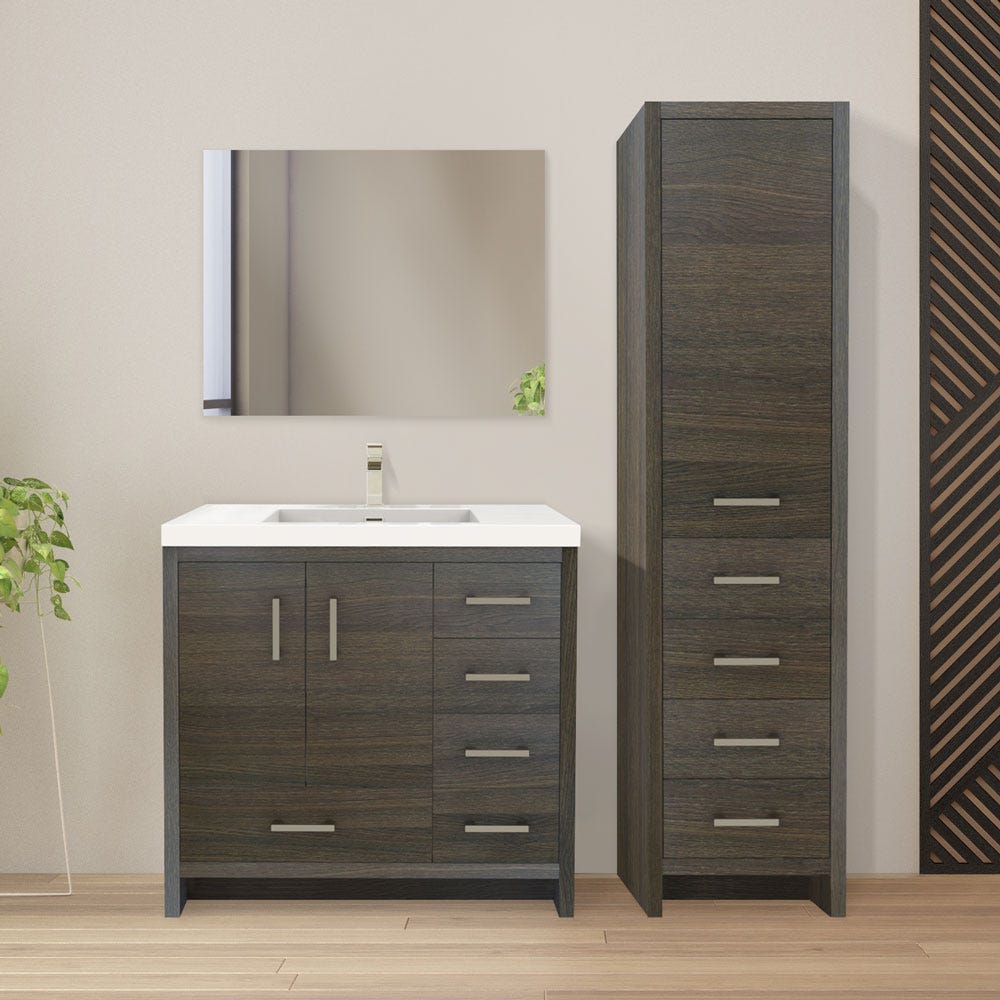 The AUSTIN collection will give your bathroom a modern touch with a wooden undertone thanks to its warm brown hue and oak finish. Simple lines and chrome bar-type handles add to its contemporary design.
The KANVA collection offers a minimalist design with a glossy white finish that makes it easy to match with most bathroom decors. The vanity's built-in top is specially designed to accommodate your favourite vessel sink for a customized look.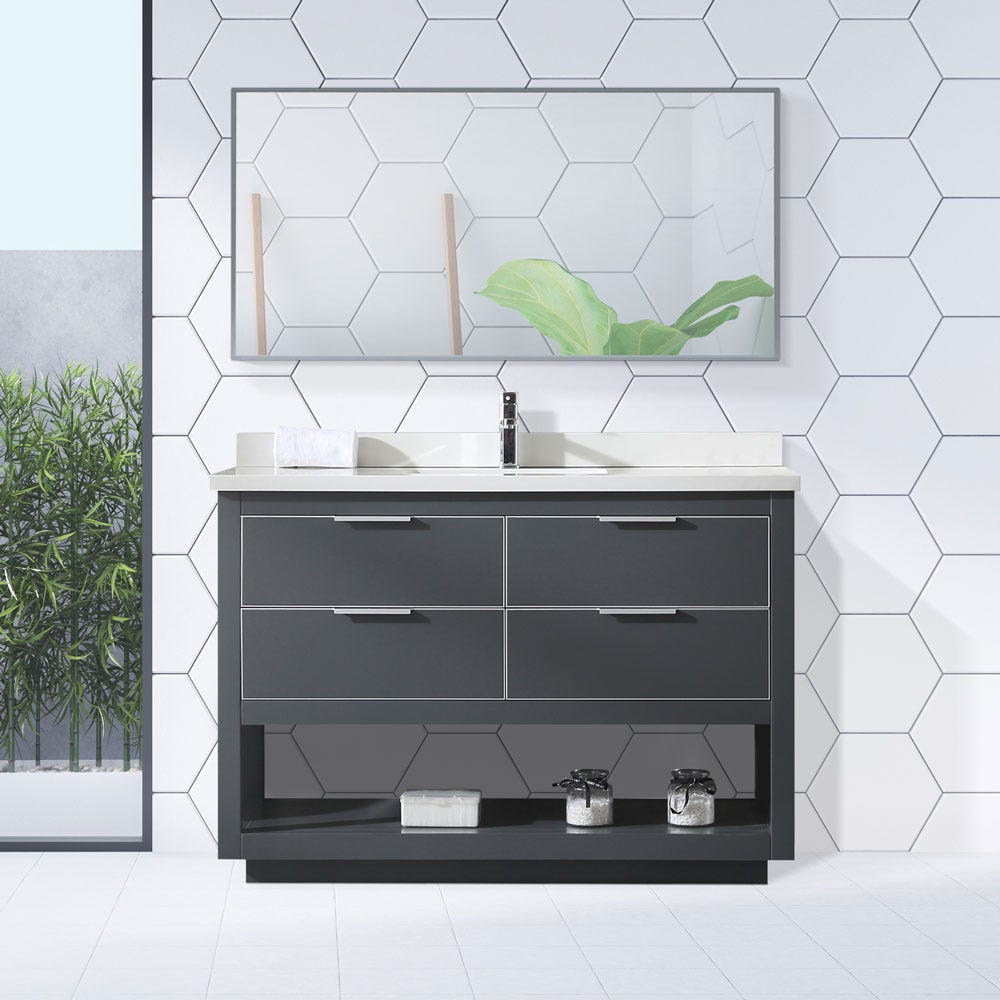 Your contemporary décor will not be complete without one of these matte dark grey pieces. The vanity's crisp lines are enhanced by aluminum accents, while the open space at the bottom keeps the design light.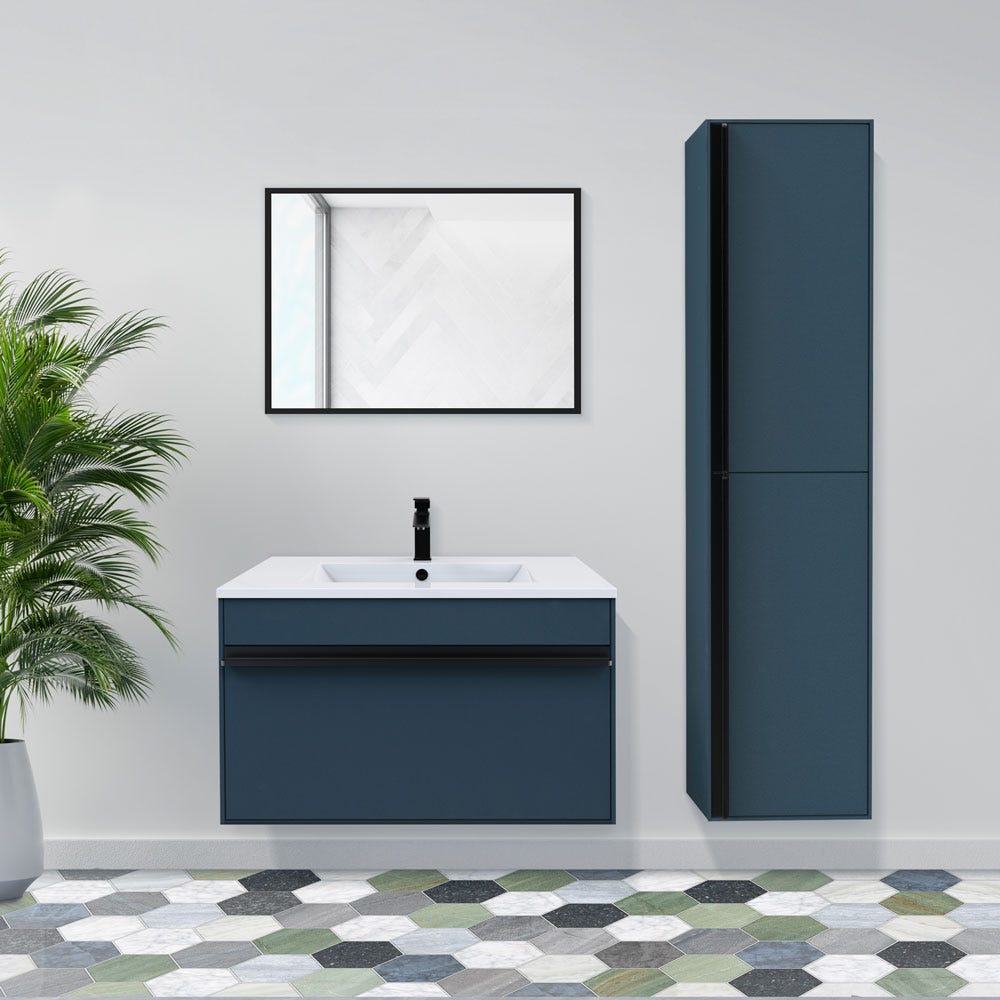 An elegant navy finish and bold black accents make the pieces from the CALEB furniture collection stand out from the rest. The simple modern design leaves the focus on the beautiful finish that will add a touch of colour and plenty of personality to furnish your bathroom with!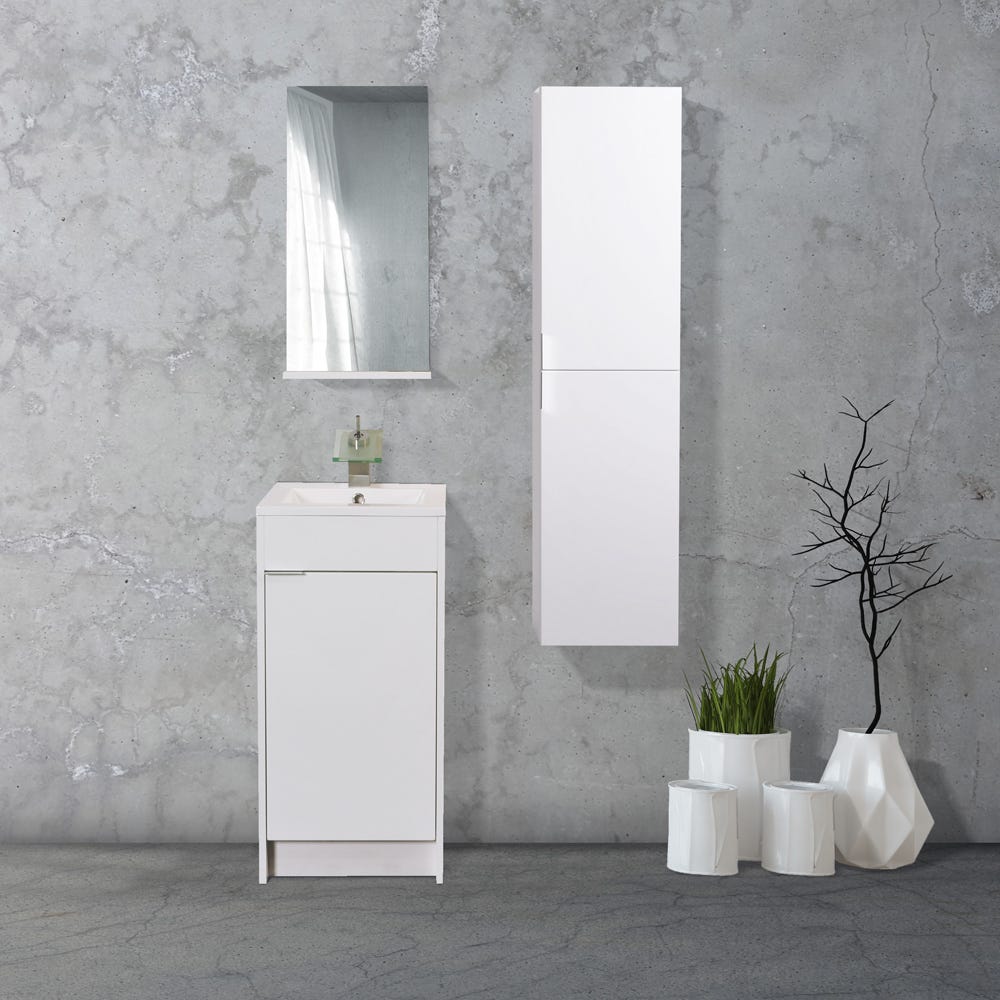 The ARGOLITO collection's space-efficient designs are enhanced by sleek and modern lines to maximize space in your small bathroom without compromising on style.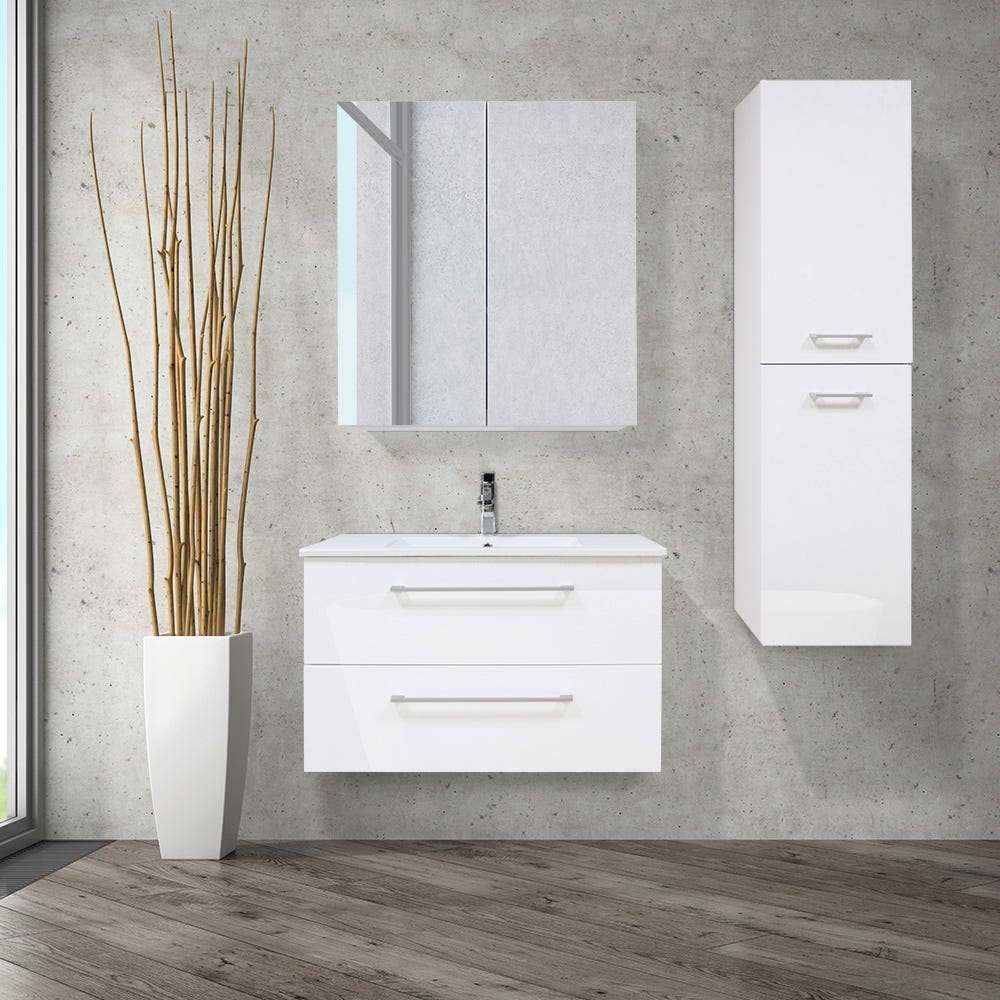 Indulge in the pure and modern style of the HIND collection with its simple design, glossy white finish and aluminum handles that will add a luxurious touch to your bathroom.
The RIVIERA collection stands out for its grey oak finish as well as its lengthened and silver handles bringing a luxurious touch to your bathroom.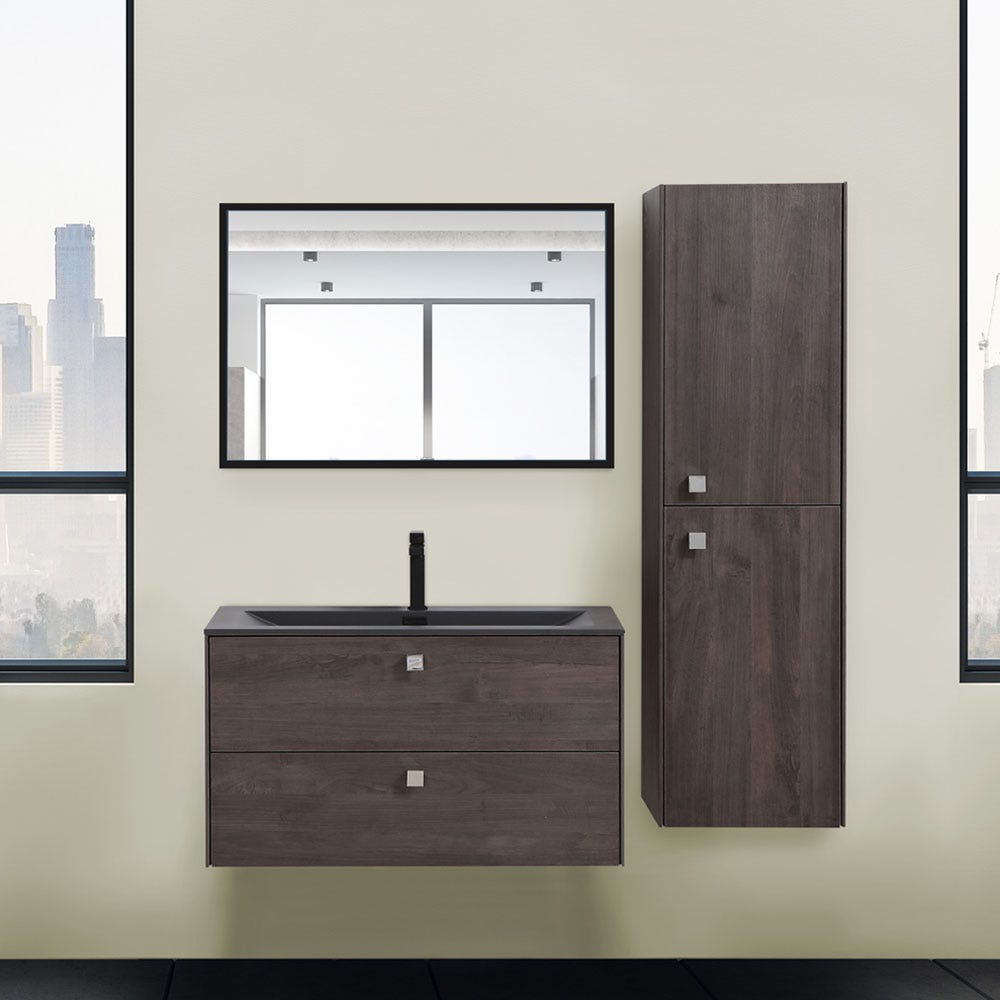 The sober yet elegant design of the KIERA collection will bring a minimalistic and impactful look to any bathroom. Providing plenty of storage space, the simple straight-lined structure is packed with style thanks to the dark oak finish, matte black top and square chrome handles.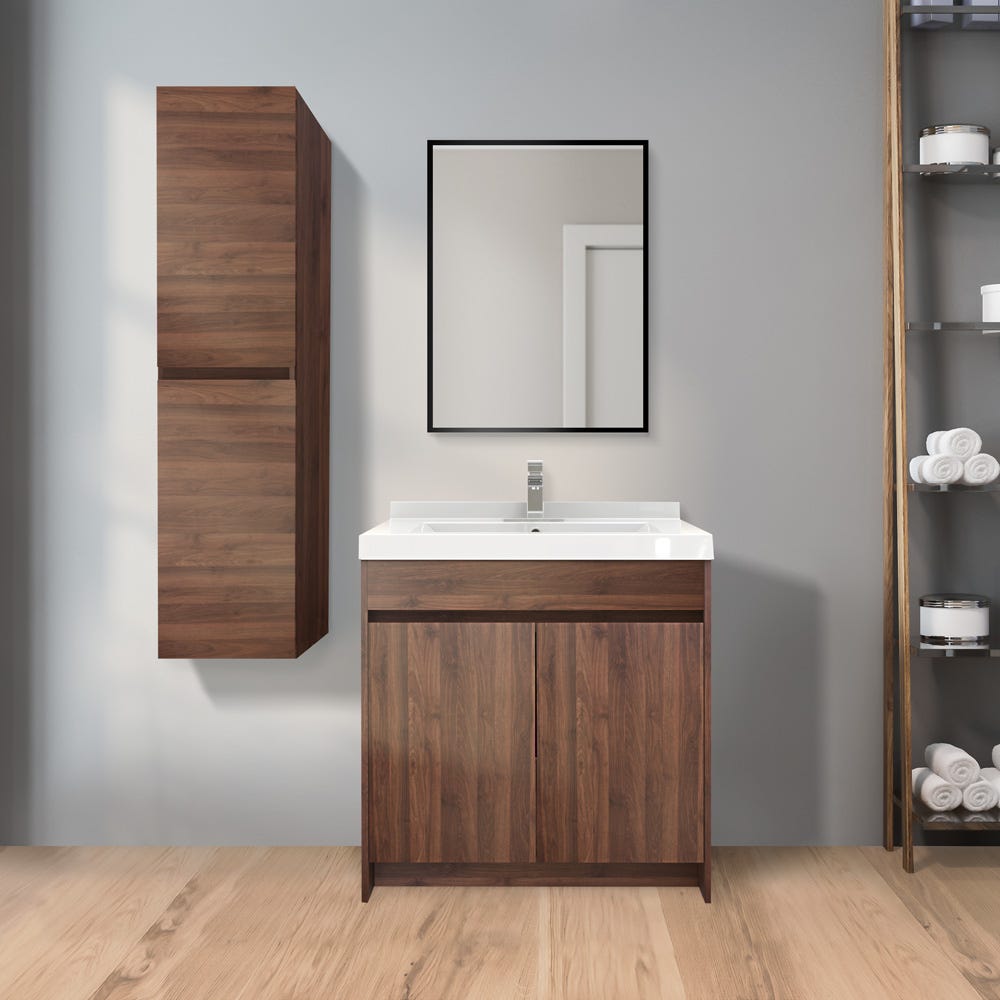 With the ASPEN collection, a peaceful haven awaits you every day in the bathroom. Organic and contemporary, its warm dark walnut finish is inviting and inspires a sense of calm while offering the necessary storage space to keep everything well organized.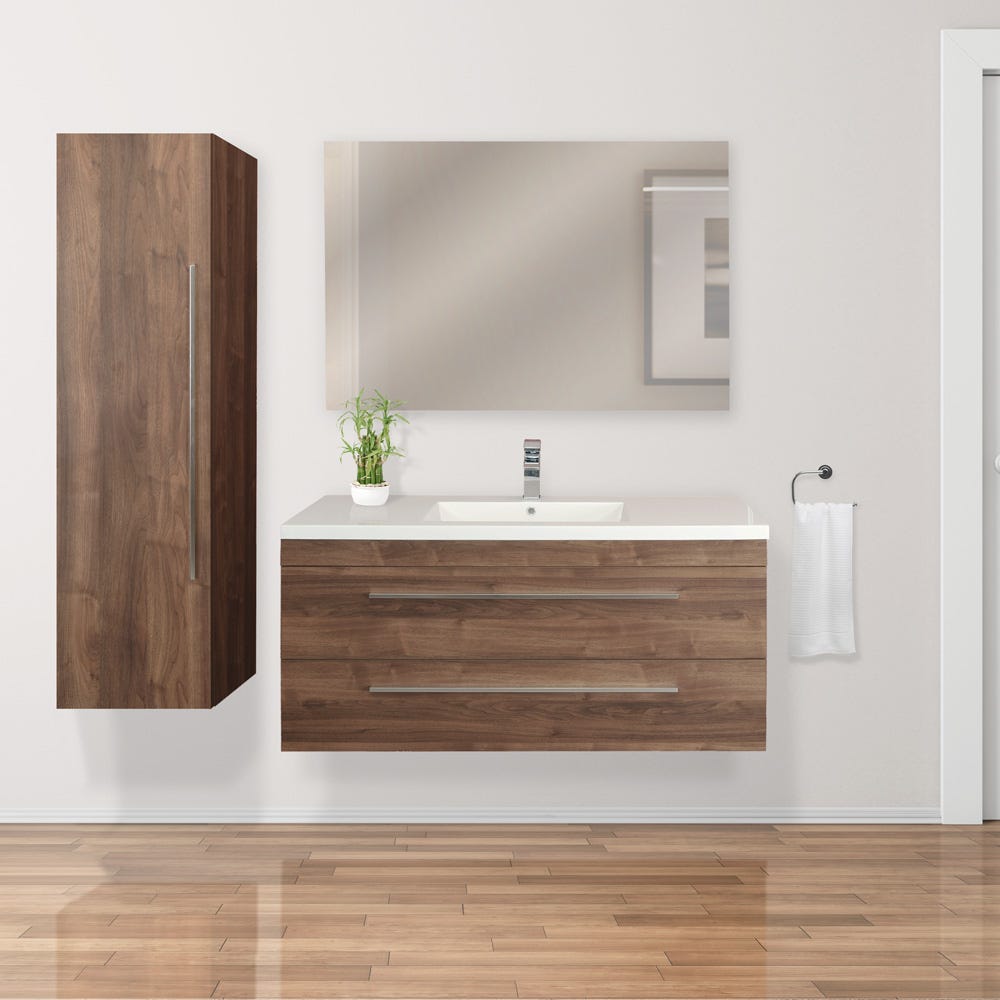 The walnut pieces from our ESSENCE collection seem picked from nature. They will make you feel like you are somewhere else while providing the storage space needed to ensure maximum functionality.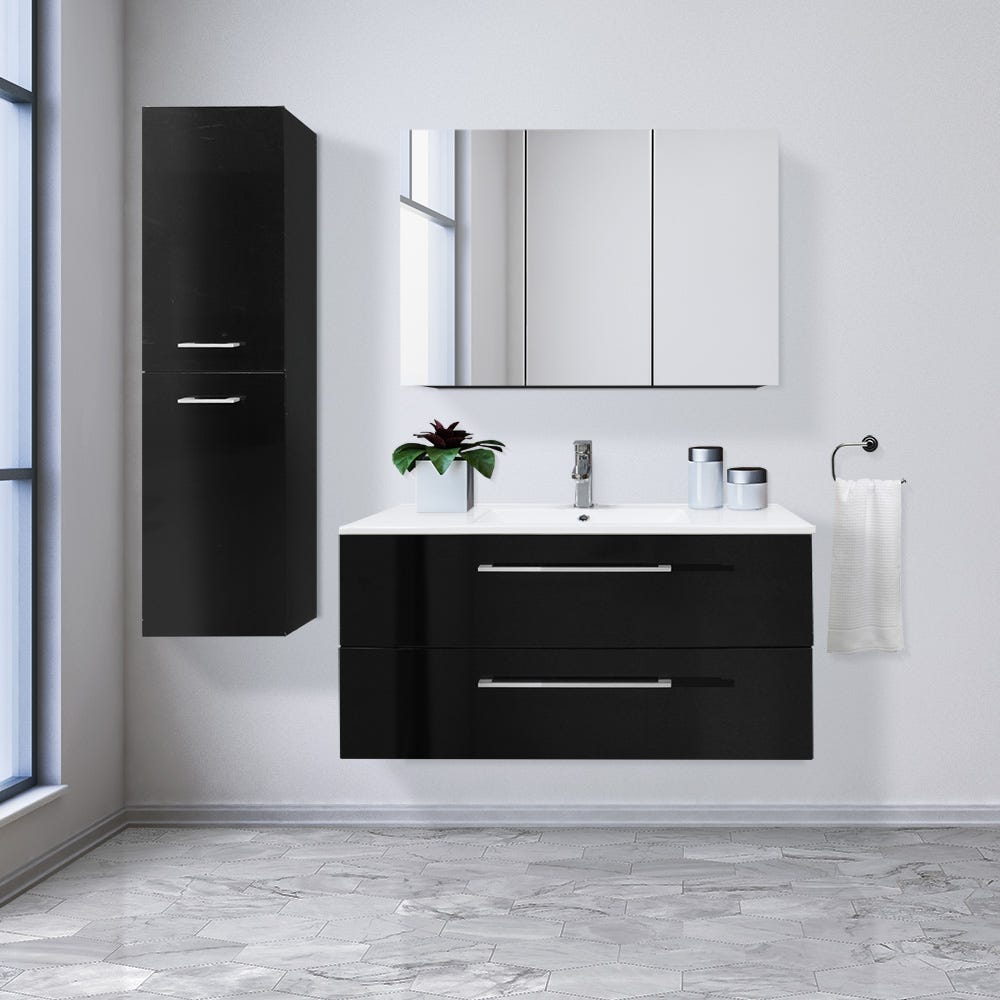 With its glossy black finish and aluminum handles, the HENRY collection's sleek design will give your bathroom a modern and refined look without compromising space.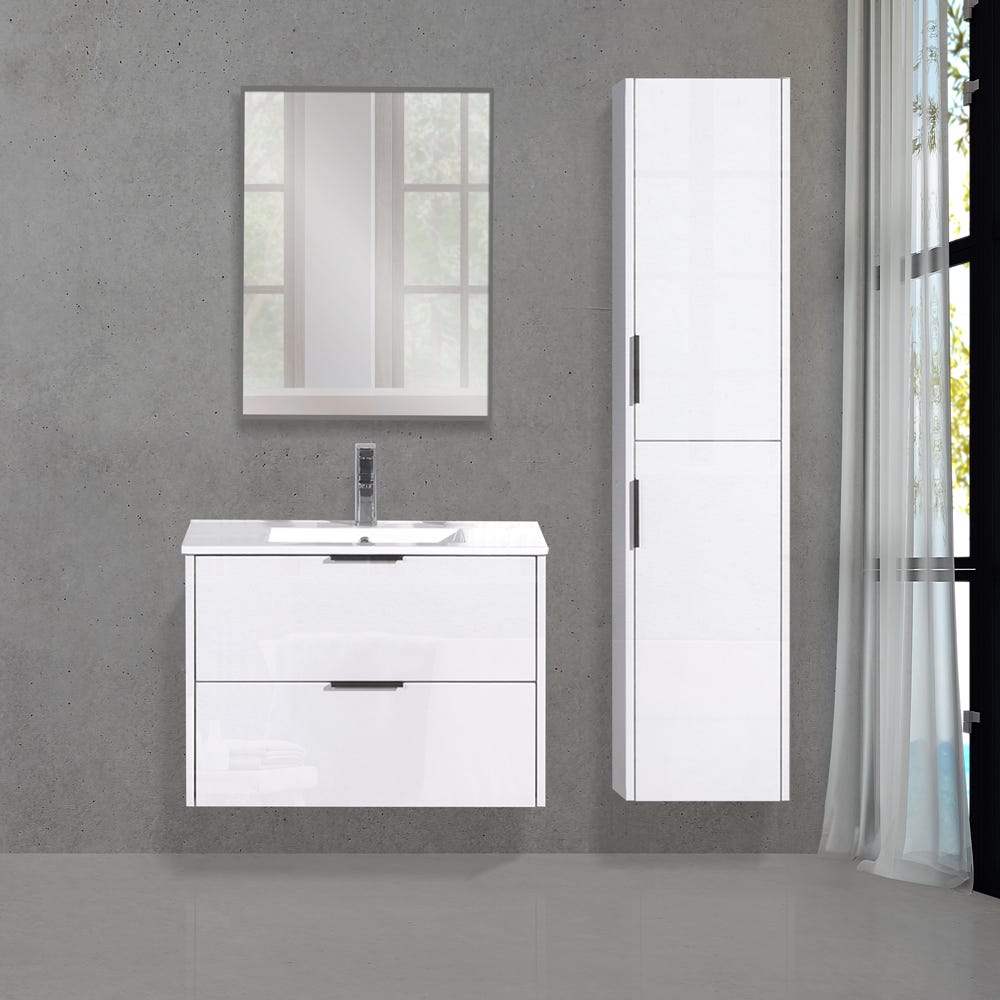 With its straight lines, glossy white finish and black handles, the SITKA collection on enhances the modern style of any bathroom without compromising on storage.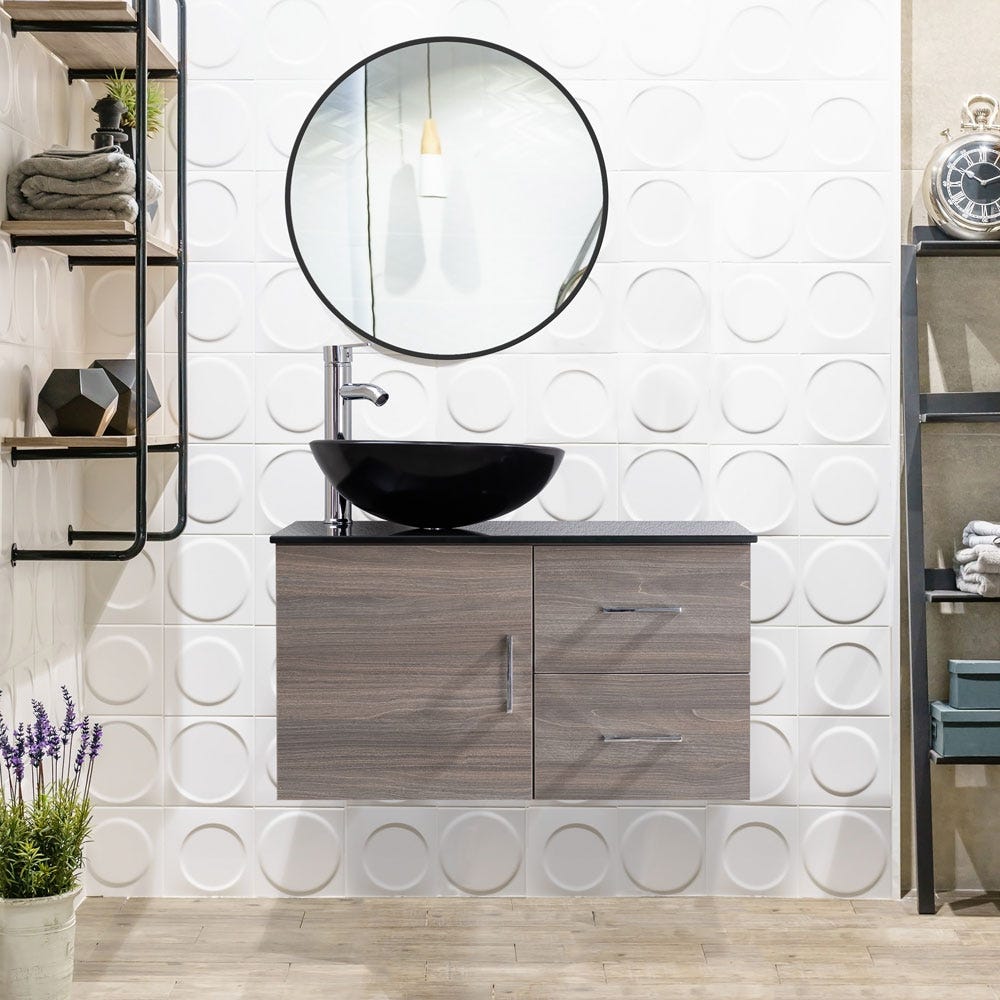 Elegantly simple, the MAPLE vanity is a perfect harmony of rustic and contemporary styles. Its grey maple finish adds a hint of nature while the black glass top and vessel sink, as well as its linear design, give it a contemporary vibe.
Give in to simplicity with the JAX collection defined by pure designs, cut-out handles and a glossy grey finish that will enhance your bathroom's décor with subtle modernity.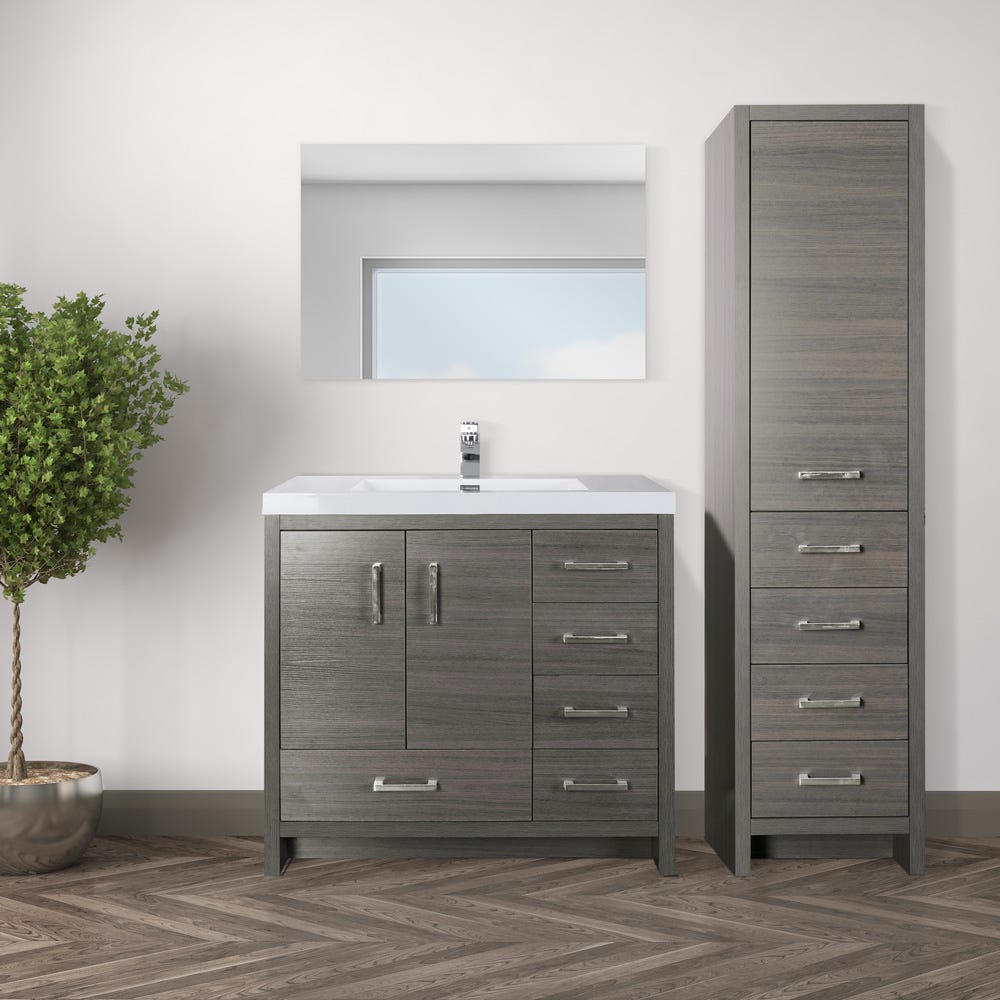 Modern and rustic styles come together to create the VANCE collection with its contemporary chrome handles and grey-brown finish mimicking natural wood lines.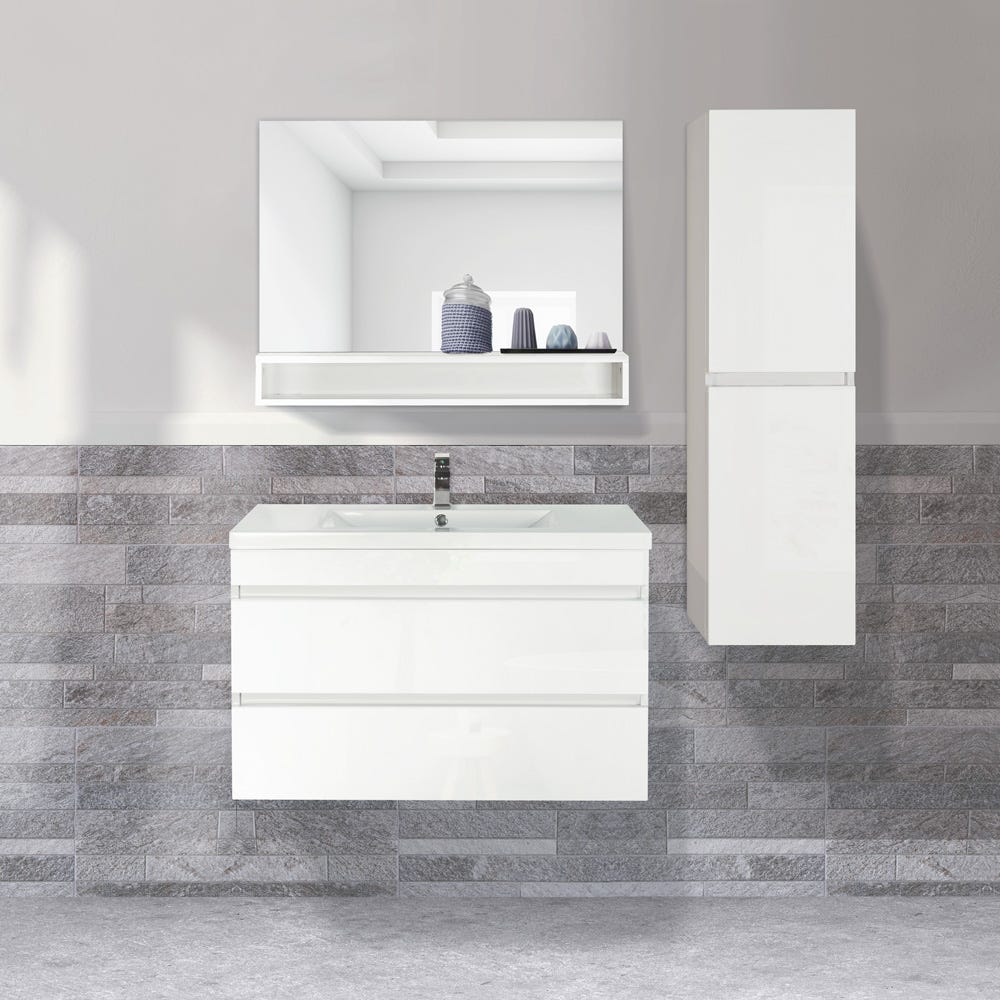 The MADDEN collection combines simplicity and modernity with its glossy white finish and profiled handles bringing a refined look to your bathroom.
Combining functionality and style, the HAILEY collection offers an ultra-trendy look with its modern glossy white design and bold matte black accents while optimising your bathroom's storage space.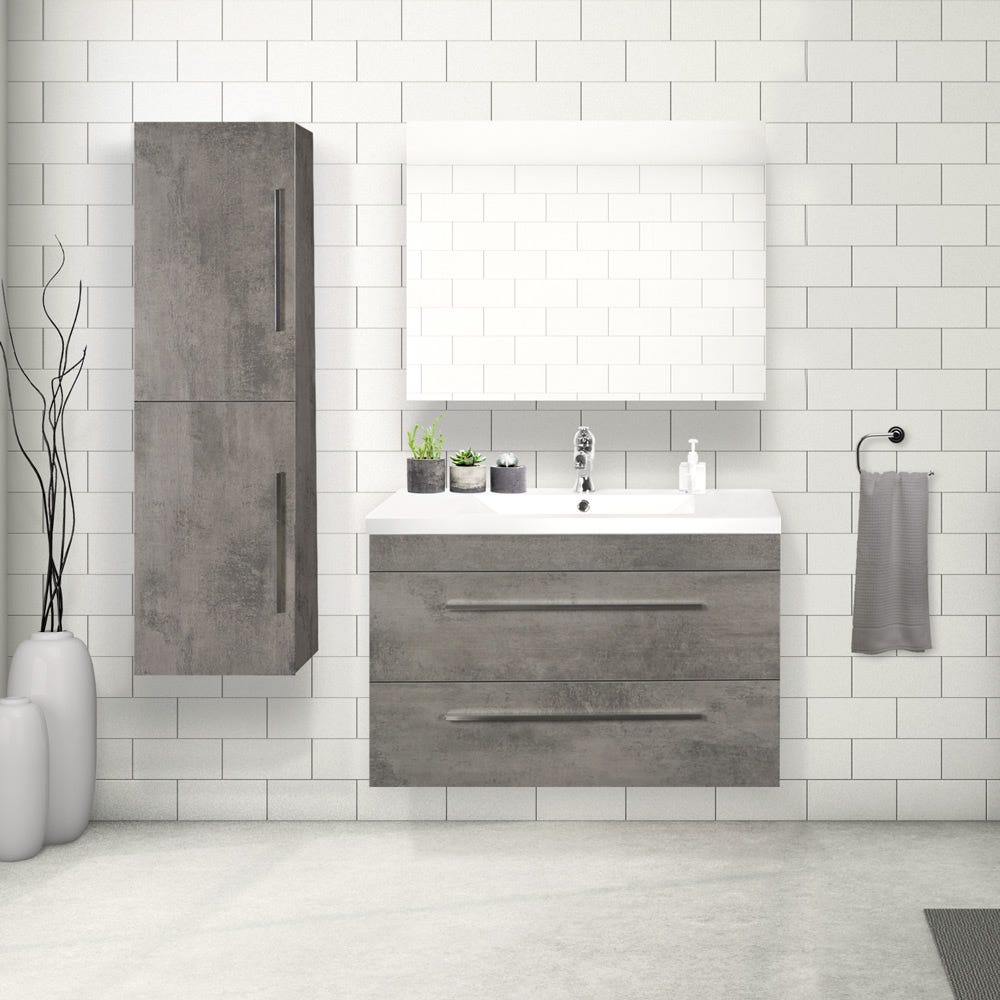 The CEMENT collection's furniture is an industrial and trendy mix offering a quality massive look for all modern bathrooms.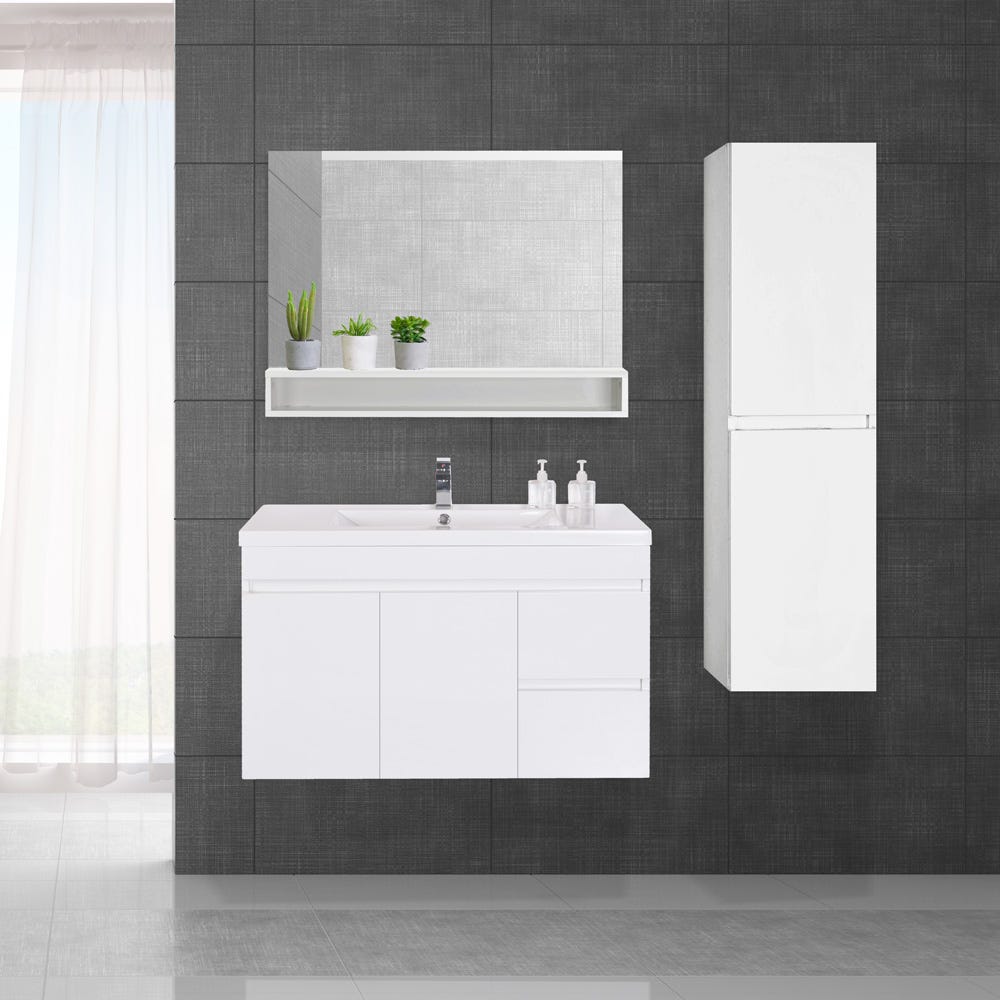 The glossy white furniture from the ARIEL collection will seem like they are gently floating to make your bathroom a modern and airy space while offering an optimal storage solution.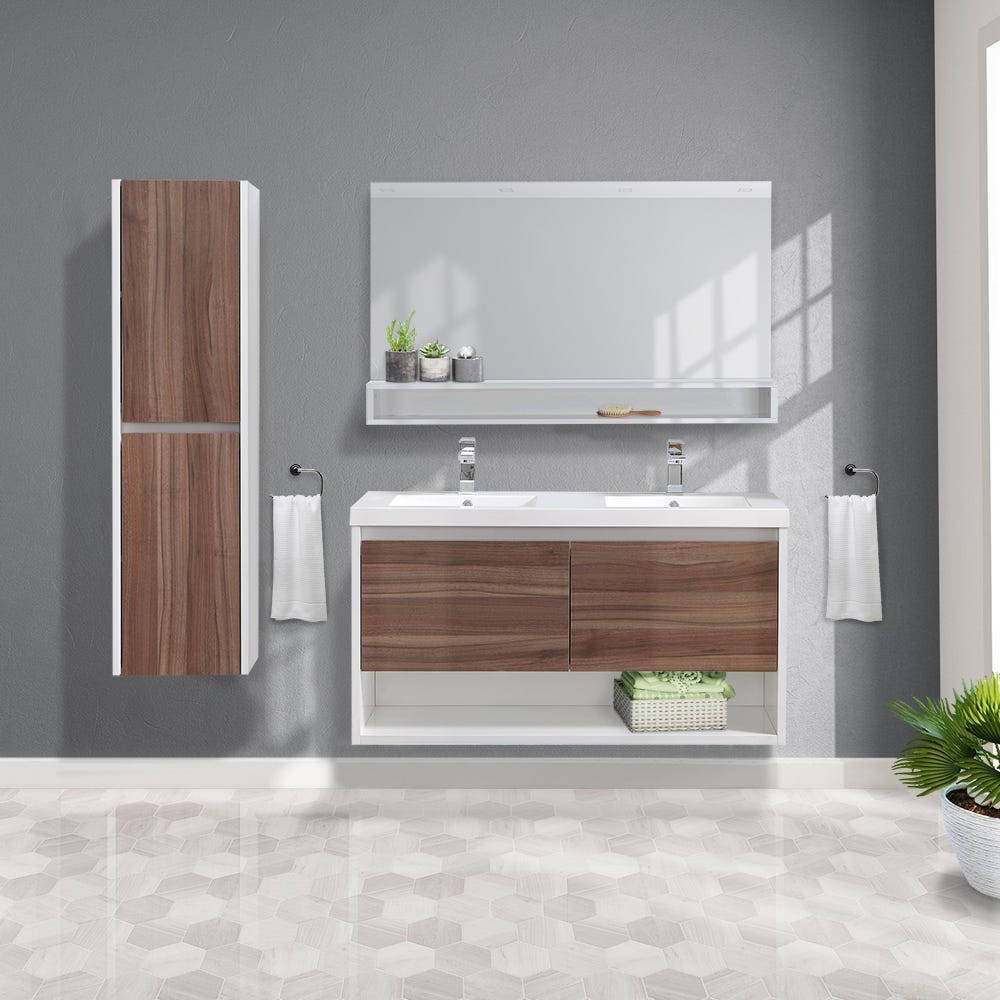 Glossy white mixed with a walnut finish, the bathroom furniture items from our HARMONY collection showcase a blend of completely different textures and colours for a harmonious and trendy look.
The RUSTIQ collection stands out for its high quality and unique finish, perfectly matching trendy as well as traditional bathroom decors.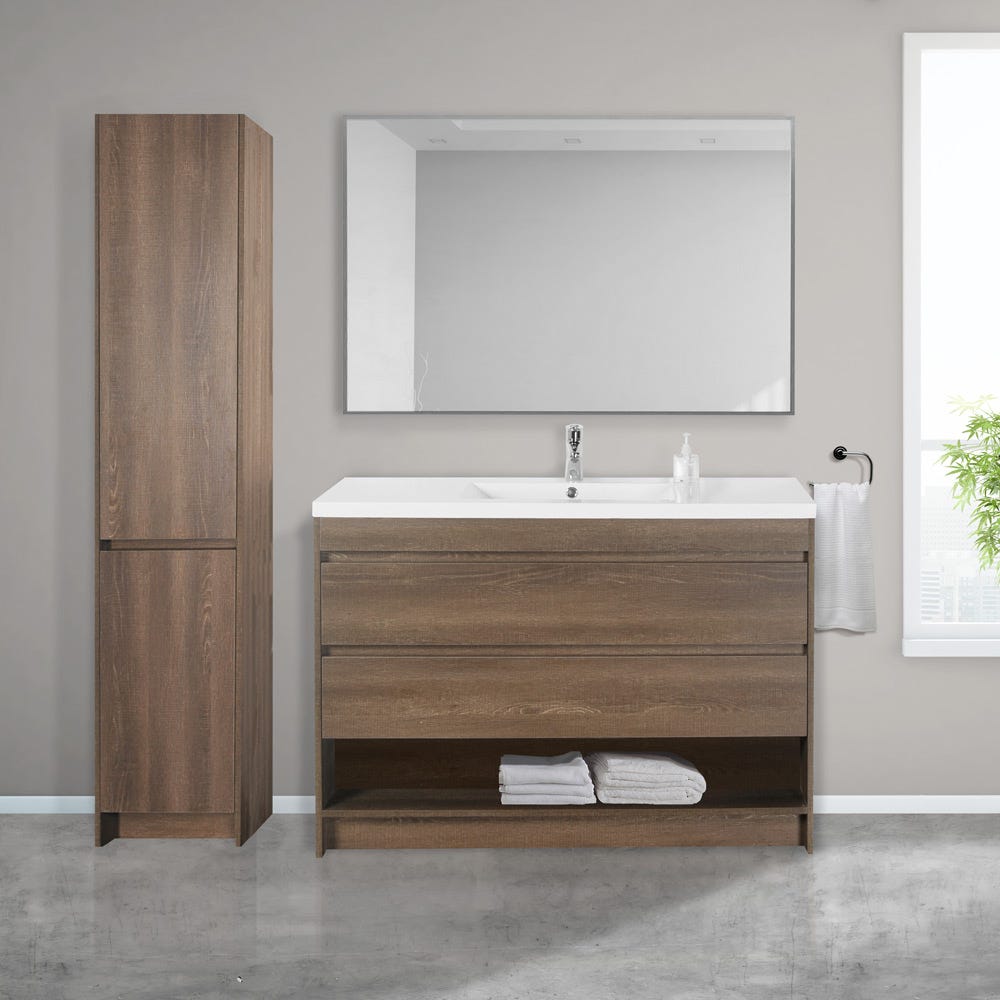 A perfect balance between simplicity and style, the TOSSA collection matches all bathroom decors thanks to its profiled handles and light finish.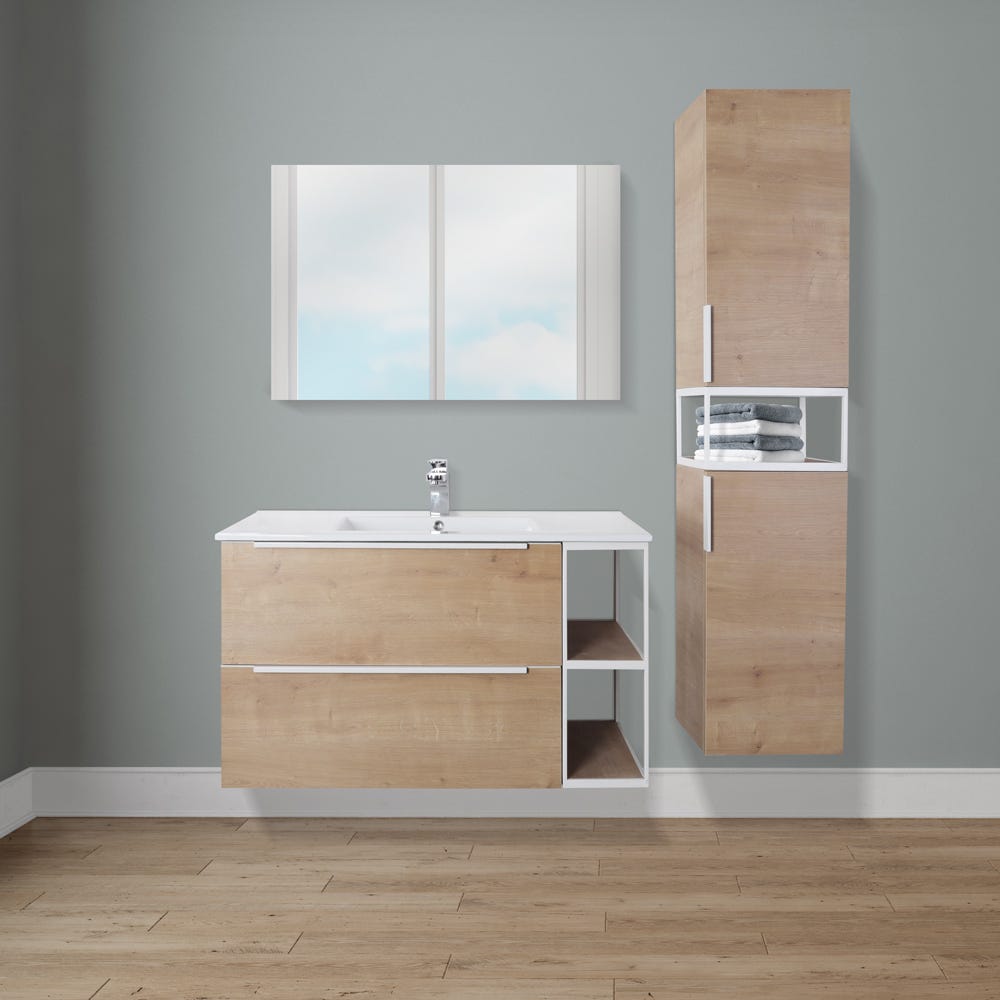 Let the BALSA collection's natural charm enchant you with its pure design, white accents and oak finish that add an organic touch to its modern style, creating a soothing and relaxing atmosphere in your bathroom.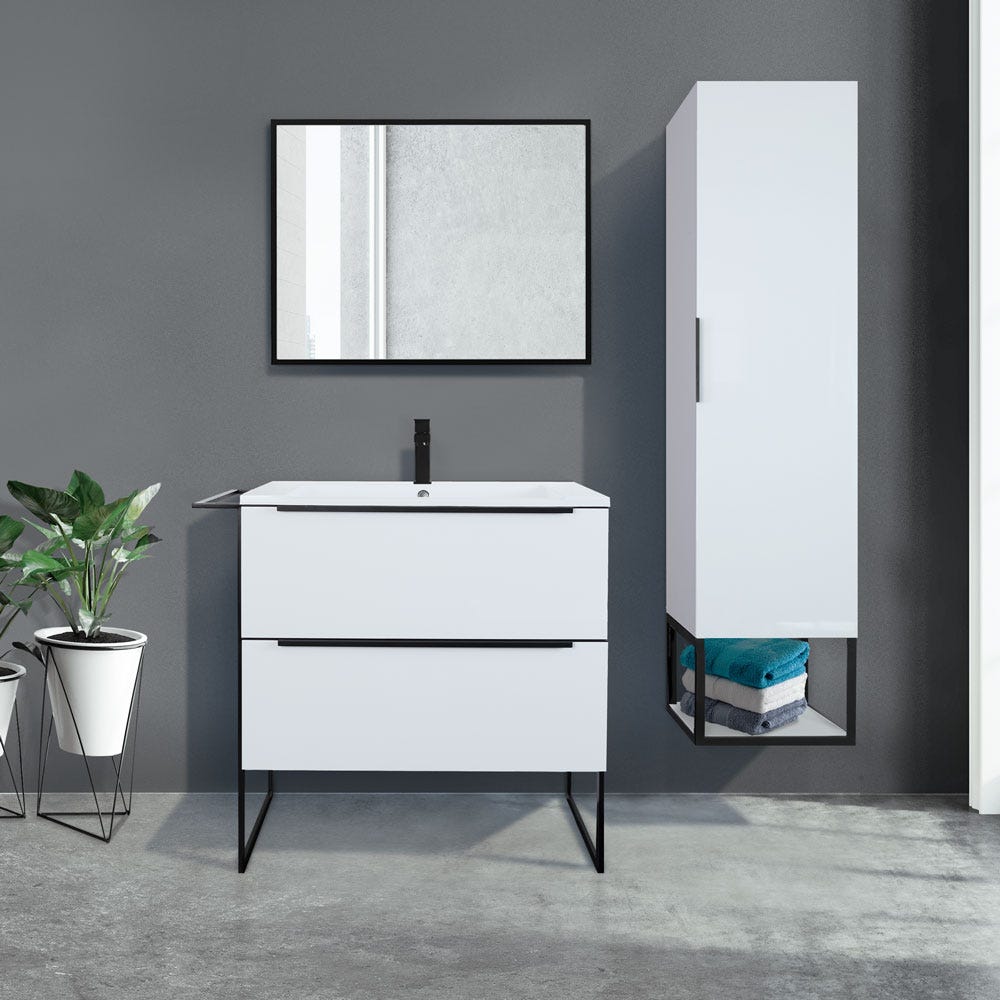 Combining functionality and style, the HAILEY collection offers an ultra-trendy look with its modern glossy white design and bold matte black accents while optimising your bathroom's storage space.